Regular price
$600.00 USD
Regular price
$2,000.00 USD
Sale price
$600.00 USD
Unit price
per
Sale
Sold out
Holiday SALE Starts Now! 
$600 - Course Only (No Device)
$1,600 - Course + Premium Plamere w/ 2 Batteries
$4,400 - Course + Plaxpot FDA Cleared Plasma Pen
* All Sale Price Sales are Final. Returns not accepted. No Refunds
** If ordering internationally, you are responsible for your countries customs duties and fee's 
PLAMERE PLASMA TRAINING with Plaxpot for Plasma Fibroblast


Our online plasma pen training program walks students through the process of learning a variety of new skin rejuvenation treatments using the NEW FDA Cleared Plaxpot Plasma Pen and our world-class plasma fibroblast training.

Plasma fibroblast is the ultimate anti-aging, tightening, lifting, and wrinkle treatment. This procedure is an excellent new service to provide to your clients. Everyone is talking about this fantastic new treatment because it provides patients with a new option for improving loose skin, folds, and wrinkles without the need for surgery..

The Premium Plamere Plasma Pen is the leading device to offer a non-surgical technique that stimulates collagen production, tightening and rejuvenating the skin for up to 5-10 years. Wrinkles and sagging skin are reduced by applying small plasma arc points to the epidermis layer. The effects can last up to three years and may even be permanent. To achieve excellent results, proper plasma pen training is a must!

THE BENEFITS OF PLASMA FIBROBLAST TREATMENT INCLUDE:


Skin rejuvenation
wrinkle lines rejuvenated
Tightens saggy and loose skin.
Skin resurfacing improves elasticity and collagen
Low risk, little downtime
less expensive than surgery

WHAT EXACTLY IS PLASMA FIBROBLASTING?

Plasma Fibroblasting is a technique used with The Premium Plamere Plasma Pen to deliver a small plasma arc onto the skin's surface when the atmospheric gas between the tip of the Premium Plamere Plasma Pen and the skin is ionized. This arc on the skin's surface stimulates fibroblasts, causing natural collagen to be activated, resulting in the desired contraction, tightening, and shortening of skin fibers. Depending on the treatment goals and degree of wrinkle removal, this treatment can be repeated every 6-12 weeks.

WHAT IS PLASMA FIBROBLASTING USED FOR?


Upper lids of the eyes
Skin around and under the eyes
Crow's feet
Nasolabial folds
Neck and jaw lift
Marks from stretching
Scars
Laxity of the abdomen
Scarring from acne
Facelift, Forehead Lift Appearance, and MORE!

WHY CHOOSE PLAMERE PLASMA PEN TRAINING?

Earn $500 to $1500 per treatment with our plasma fibroblast training. Annual revenue of $100,000 or more.
Change lives everyday. Make people happy with their new look and appearance.
Take pleasure in your work. Develop your own business. Make your own decisions.


UNDERSTANDING OUR PACKAGES:

ONLINE COURSE, CERTIFICATION, AND DEVICE OPTIONS

Learn Plasma Fibroblast Training and get certified online. The course can be completed in 48 hours. We offer three options to purchase. Our online course can be purchased separately and you can use an FDA cleared plasma pen to perform plasma fibroblast with the pen of your choice. You can also purchase our course with the NEW FDA CLEARED Plaxpot plasma pen for your medspa or office. We also offer the Premium Plamere Plasma Pen for use in facial massage for esthetics and cosmetics application. Use and scope of Premium Plameres multi esthetic tools can vary so ensure you have checked your local regulations before using Plamere for plasma fibroblast. The course covers both the esthetic applications of Plamere and detailed fibroblast training to use with your Plaxpot. 
Our course can be completed at your own pace and on your own timetable. The online training program is accessible 24 hours a day, 365 days a year. Students will receive a foil stamped certificate in the mail once they have completed the course. International CPD Accreditation. We are the only genuine Plamere Plasma Fibroblast Training company that offers online certification, and we own the Plamere Plasma Training® registered trademark.

WHAT IS INCLUDED?


With or without Plaxpot or Premium Plamere
1 Year device warranty
1 Year access to the plasma fibroblast training learning module
Flyers & Video Ads for use as Marketing materials
Starter Picture Portfolio
Plamere Plasma Pen Training Support App is available 24 hours a day, 7 days a week, 365 days a year!
PLASMA PEN TRAINING AND CERTIFICATION ARE INCLUDED IN THE PACKAGE (WITHOUT DEVICE)
Plamere Plasma Training enables you to earn certification online for Plasma fibroblast. The course is for educational purposes and can be completed in 48 hours. The Plamere Plasma Pen or Plaxpot Device are not included in this option. The online course will take about 48 hours to complete. The course can be completed at your own pace and according to your schedule. The online training program is accessible 24 hours a day, 365 days a year. Students will receive a foil stamped certificate in the mail once they have completed the course. International CPD Accreditation. We are the only authorized Plamere Plasma Fibroblast Training provider offering online certification, and we own the Plamere Plasma Training® registered trademark.
WHAT IS INCLUDED?
1 Year access to the plasma fibroblast training learning module
Flyers & Video Ads for use as Marketing materials
Plamere Plasma Pen Training Support App is available 24 hours a day, 7 days a week, 365 days a year!
** If ordering internationally, you are responsible for your countries customs duties and fee's 

FAQ

Is the device part of my tuition for plasma pen training?

Yes! When you purchase the course with the device of your choice bundle you will receive the online fibroblast training course, the student Kit and the device of your selection. We also provide an online training course for students who already own a plasma pen and want to improve their treatment proficiency. Choose the most appropriate course for you. We do not, however, refund tuition fees paid for your course or student kit if you change your mind once you have enrolled.

Is my Plamere or Plaxpot Device covered by a warranty?

Yes, your Plamere is covered by the manufacturer's warranty against defects for one year after you receive it. For more information on warranty, please call 833-252-3464.

Is a specific license required to take the Plamere Plasma Training course?

Our program is available worldwide, and there is no prior licensing required to become certified through our program for Plasma Fibroblast Training. It is the responsibility of each student to research the laws in their intended field of practice to determine if any additional licensing is required other then our plasma fibroblast training for their business. We do not encourage or endorse the use of the methods or device in any area where licensing is required if you do not have the necessary licenses. Please first check with your state and county licensing boards to see if a license is required other then our plasma fibroblast training in any profession you intend to practice professionally.

How long will I have access to the Plamere Plasma Training® course?

After enrolling, you will have one year of access to the plasma pen training online course. The plasma pen training course can be completed in about 48 study hours. Though access to the plasma pen training study guides will be available to you for one year to help you get started taking clients.

When Will I Get My Device?

After we receive your order, we typically ship each device via Priority USPS the following business day. Shipments are typically delivered within 2-3 business days of ordering. While your shipment is on its way, you can begin your plasma pen training! During the holiday season and winter storms there may be fluctuations in transit time beyond our control. 

Is CPD Accreditation available for Plamere Plasma Training?

We offer plasma fibroblast training with the assurance and commitment that comes with internationally recognized CPD accreditation. Our plasma fibroblast training CPD credits can be applied to CLE requirements, allowing you to qualify for advanced training in other aesthetic procedures in your home country. Please check your region's regulations for CPD credit application.

Is group training offered for plasma pen training?

Yes, we do make special arrangements for group enrollment with a minimum of three students. Each student in the group must pay for their own plasma pen training registration. Once a student has registered, his or her enrollment is not transferable. Account access and certification are only available to the registered student. Accounts that violate this agreement term may be restricted in order to ensure the integrity of enrollment for our students and training team.
** If ordering internationally, you are responsible for your countries customs duties and fee's 
Course Curriculum

Student Onboarding

Electronic Signature
Upload your photo ID

Welcome to the course!

Welcome To Plamere Plasma Training
Onboarding
How to use this course
Course Introduction
Table of Contents
Before we begin...

Unit 1: Introduction

1.1 Virtual Instructor Introduction
1.2 Plasma Introduction
1.3 Plamere Introduction
1.4 Unit Review

Unit 2: What is Plasma?

2.1 Plamere Plasma Technology
2.2 Plasma In Depth Exploration
2.3 History of Plasma
2.4 How Does Plasma Work?
2.5 Plasma Stimulates Fibroblasts
2.6 Plasma Technology Specifics
2.7 Plasma Esthetic Applications
2.8 Unit Review

Unit 3: Plamere Device

3.1 Plamere Device Intro Video
3.2 Plamere Multi Plasma Device
3.3 Premium Plamere Unboxing
3.4 Plamere Applicators- 5 Treatments
3.5 Plamere Dosage
3.6 Premium Plamere Kit
3.7 Plamere Power Settings
3.8 Plamere All Treatment Variety Demo
3.9 Plasma Arc Applicator
3.10 Plasma Arc Applicator
3.11 Plasma Arc Basic Copper Tip
3.12 Plasma Arc Copper Probe Video
3.13 Plasma Arc Angled Copper Probe
3.14 Plasma Arc Angled Copper Probe Video
3.15 How to Set up The Angled Copper Probe
3.16 Plasma Facial Applicator Ball Tip
3.17 Plasma Facial Ball 3 Techniques
3.18 Plasma Facial Ball Set Up & Techniques
3.19 Plasma Ball Facial -3 Technique Demo
3.20 Plasma Facial Lifting Applicators
3.21 Plamere Lifting Treatment Efficacy
3.22 Plasma Fractional Applicator Set Up
3.23 Plamere Fractional Treatment Demo
3.24 Plasma Facial Flat Applicator Set Up
3.25 Plasma Facial Lifting Techniques
3.26 Plasma Facial Lifting Techniques Demo
3.27 Plasma Facial Treatment Video
3.28 Plasma Acne Applicator
3.29 Plasma Acne Treatment Demo
3.30 Acne Applicator Treatment Set Up
3.31 Plasma Facial Contraindications

Unit 4: Plamere Procedure

4.1 Plamere Procedures Introduction Video
4.2 Treatment Options
4.3 Examples of Crepey Skin
4.4 Crepey Skin: Arms
4.5 Crepey Skin: Legs
4.6 Crepey Skin: Face
4.7 Crepey Skin: Neck
4.8 Crepey Skin: Undereye
4.9 Crepey Skin: Plamere DICE pattern
4.10 Section Review
4.11 Fine Lines
4.12 Fine Line Assessment Video
4.13 Fine Line Assessment Discussion
4.14 Fine Line Assessment
4.15 Fine Line Grading System
4.16 Fine Line Grading Chart
4.17 Fine Line Stage 1: Demo
4.18 Fine Line Stage 2: Demo
4.19 Fine Line Stage 3: Demo
4.20 Section Review
4:21 Crows Feet Examples
4.22 Crows Feet Static vs. Expression
4.23 Crows Feet Demo
4.24 Section Quiz
4.25 Lip Treatments
4:26 Lip Treatment Examples
4:27 Lip Treatments: Kiss Lines
4.28 Kiss Line Demo
4:29 Lip Treatments: Asymmetry
4.30 Lip Asymmetry Demo
4:31 Lip Treatments: Thin Lip Flip
4:32 Lip Flip Demo
4.33 Section Review
4.34 Hooded Eye Treatment
4.35 Hooded Eye Lift Candidates
4.36 Hooded Eye Lift Candidates
4:37 Hooded Eye Lift Candidates
4:38 Hooded Eye Lift Non-Candidate Comparison
4.39 Hooded Eye Demo
4.40 Section Quiz
4.41 Neck Lift Treatments
4.42 Neck Lift Client Comparison
4.43 Neck Lift Treatment Demo
4.44 Tummy Tightening
4.45 Tummy Tightening Client
4.46 Tummy Tightening Client Assessment
4.47 Section Quiz
4.48 Age Spot Treatment
4.49 Age Spot Treatment Demo
4.50 Skin Tag Treatment
4.51 Skin Tag Treatment Demo
4.52 Telangiectasis
4.53 Telangiectasis Demo
4.54 Jowl Treatment
4.55 Jowl Treatment Demo
4.56 Stretchmarks & Scars
4.57 Treating Stretchmarks & Scars
Unit Quiz

Unit 5: Contraindications & Client Consent

5.1 Contraindications Introduction Video
5.2 Contraindication Discussion
5.3 Contraindications List
5.4 Contraindications List
5.5 Contraindications List
5.6 Contraindications List
5.7 Contraindications List
5.8 Fitzpatrick Scale Keloid & Hyperpigmentation Assessment
5.9 Client Records
5.10 Informed Consent (Page 1)
5.11 Informed Consent (Page 2)
5.12 Medical History Form
5.13 Medical History Form
5.14 Medical History Form
5.15 Client Disclosure
5.16 Physician Clearance

Unit 6: Pre Treatment Consultation

6.1 Client Consultation Introduction Video
6.2 Client Consultation
6.3 Client Consultation
6.4 Client Consultation
6.5 Client Consultation
6.6 Client Consultation
6.7 Client Consultation
6.8 Client Consultation
6.10 Client Scenario 1
6.11 Mock Consultation 1
6.12 Scenario 1 Quiz
6:13 Client 1 Treatment Plan
6:14 Client Scenario 2
6:15 Mock Consultation 2
6.16 Scenario 2 Quiz
6.17 Client 2 Treatment Plan
6.18 Client Scenario 3
6.19 Mock Consultation 3
6.20 Scenario 3 Quiz
6.21 Client 3 Treatment Plan

Unit 7: Hygienic Healing & After Care Plan

7.1 After Care Introduction Video
7.2 Hygienic Healing
7.3 Aftercare Observation
7.4 Client Aftercare Instructions
7.5 Aftercare Plasma Protector SPF
7.6 Client Aftercare Options
7.7 In Office Aftercare Treatment
7.8 Plasma Rejuvenator After Care -NEW
7.9 Client Take Home Aftercare Option -NEW
7.10 Plasma Perfector
7.11a LED Therapy Aftercare Enhancement
7.11b LED Aftercare Enhancement Options
7.12 Client Scenario 1: Aftercare Plan
7.13 Client Scenario 1: Aftercare Treatment Options
7.13 Client Scenario 1: Aftercare Simulation
7:14 Client Scenario 2: Aftercare Plan
7.15 Client Scenario 2: Aftercare Treatment Options
7.16 Client Scenario 2: Aftercare Simulation
7.17 After Care Client Handout
7-18 Treatment Room Ventilation

Unit 8: Anatomy & Physiology of Healing

8.1 Anatomy Intro Video
8.2 Skin Functions
8.3 Skin Discussion
8.4 Sebum
8.5 Skin Structure
8.6 Layers of Skin
8.7 Layers of Skin
8.8 Layers of Skin
8.9 Layers of Skin
8.10 Layers of Skin
8.11 Layers of Skin
8.12 Skin Diagram
8.13 Layers of Skin
8.14 Glycosominoglicans
8.15 Intro to Collagen
8.16 Subcutaneous Diagram
8.17 Subcutaneous Layer
8.18 GAG's
8.19 Fibroblasts
8.20 Importance of Fibroblasts
8.21 Elastin
8.22 Types of Collagen
8.24 Immune Impairment Inhibits Results
8.25 Appendages of the Skin
8.26 Appendages of the Skin
8.27 Appendages of the Skin
8.28 Sebaceous Glands
8.29 Capillaries
8.30 Nerves
8.31 Functions of the skin
8.32 Functions of the skin
8.33 Functions of the skin
8.34 Skin Diagram
8.35 Skin Function
8.36 Skin Types
8.37 Mature Skin
8.38 Muscles of Face
8.39 Muscles Diagram
8.40 Muscles Diagram
8.41 Wound Healing
8.42 Inflammatory Response
8.43 Collagen Production
8.44 Lymphatic Defense
8.45 Nutritional Function
8.46 Metabolism of the Lymphatic System
8.47 Impaired Lymph System
8.48 Impaired Lymphatic System
8.49 Glycation
8.50 AGE's
8.51 Anti-Glycation Agents
8.52 Visible Signs of Glycation
8.53 PIH
8.54 PIH
8.55 PIH
8.56 Unit Quiz

Unit 9: Procedure Protocol

Intro: Work Station Setup
9.1 Hooded Eye Treatment Protocol
9.2 Skin Laxity Test
9.3 Hooded Eye Skin Assessment
9.4 Client Advisement
9.5 Hooded Eye Quiz
9.6 Treatment Preparation
9.7 Plamere Setup
9.8 Procedure Preparation
9.9 Hooded Eye Treatment Explanation
9.10 Dot Technique
9.11 After Treatment
9.12 Benign Lesions
9.13 Dermatologists Clearance Required
9.14 Procedure Protocol
9.15 Scanning Technique
9.16 After Treatment Protocol
9.17 Telangiectasia Treatment Protocol
9.18 Telangiectasia Treatment Results
9.19 Pre-Treatment Protocol
9.20 Identifying Scar Types
9.21 Scar Treatment Protocol
9.22 Scar Treatment Protocol
9.23 After Scar Treatment Protocol
9.24 Crows Feet Treatment Protocol
9.25 Age Spot Treatment Protocol
9.26 Skin Tag Treatment Protocol
9.27 Mini Face Lift Procedure Protocol
9.28 After Treatment Protocol
9.29 Plamere Pattern Guidebook
Unit 9 Quiz

Unit 10: Practice Plamere Plasma Procedures

10.2 Plamere Practice Preparation
10.3 Plasma Arc Practice Video
10.4 Hovering The Plamere
10.5 Hovering
10.6 Practice 1: Dice Pattern
10.7 Simulation 1: Assignment
10.8 Simulation 1: Assignment Submission
10.9 Dice Pattern Applications
10.10 Dice Pattern: Hooded Eye Practice
10.11 Fine Lines Practice Video
10.12 Fine Line Technique Practice
10.13 Fine Line Application Practice
10.14 Simulation 2: Fine Line Pattern
10.15 Simulation 2: Assignment
10.16 Simulation 2: Preview Video
10.17 Simulation 2: Assignment Submission
10.18 Crows Feet Application Pattern
10.19 Crows Feet Practice Video
10.20 Crows Feet Example
10.21 Crows Feet Practice
10.22 Tummy Tightening Video
10.23 Establishing Treatment Boundaries
10.24 Tummy Tightening Treatment
10.25 Tummy Tightening Result
10.26 Lip Enhancements Video
10.27 Treatment Examples
10.28 Live Model Assignment
10.29 Live Model Assignment Submission

Course Final Exam

Next Steps

Next, Lets talk business...
Marketing Material
Promotional Materials NEW
Social Media Promo Post Materials NEW
Starter Portfolio
Pricing Guidelines
Device Warranty
Insurance Providers
Shop Plamere
Find Us on Facebook!
Follow Us on Instagram!
Before you go...
Plamere App
Congratulations!
BONUS GIVEAWAY!
Aftercare Card
Client Consent Forms- NEW
Ongoing Support

FAQ

FAQ Resources
How do I reach an instructor for ongoing support?
If I need service for my Plamere device?
What if my numbing cream wears off early?
Can I remove moles?
There is a new technique I didn't learn in the course, Why?
Where Do I Buy Additional Needles?
My client seems to be swelling alot or has redness, is this ok?
My clients dots still have not shed, what now?
Contribute to FAQ
Additional information

Your purchase includes everything you need to get started and succeed as a Plamere Plasma Practitioner!
Shipping & Returns Policy
Share
View full details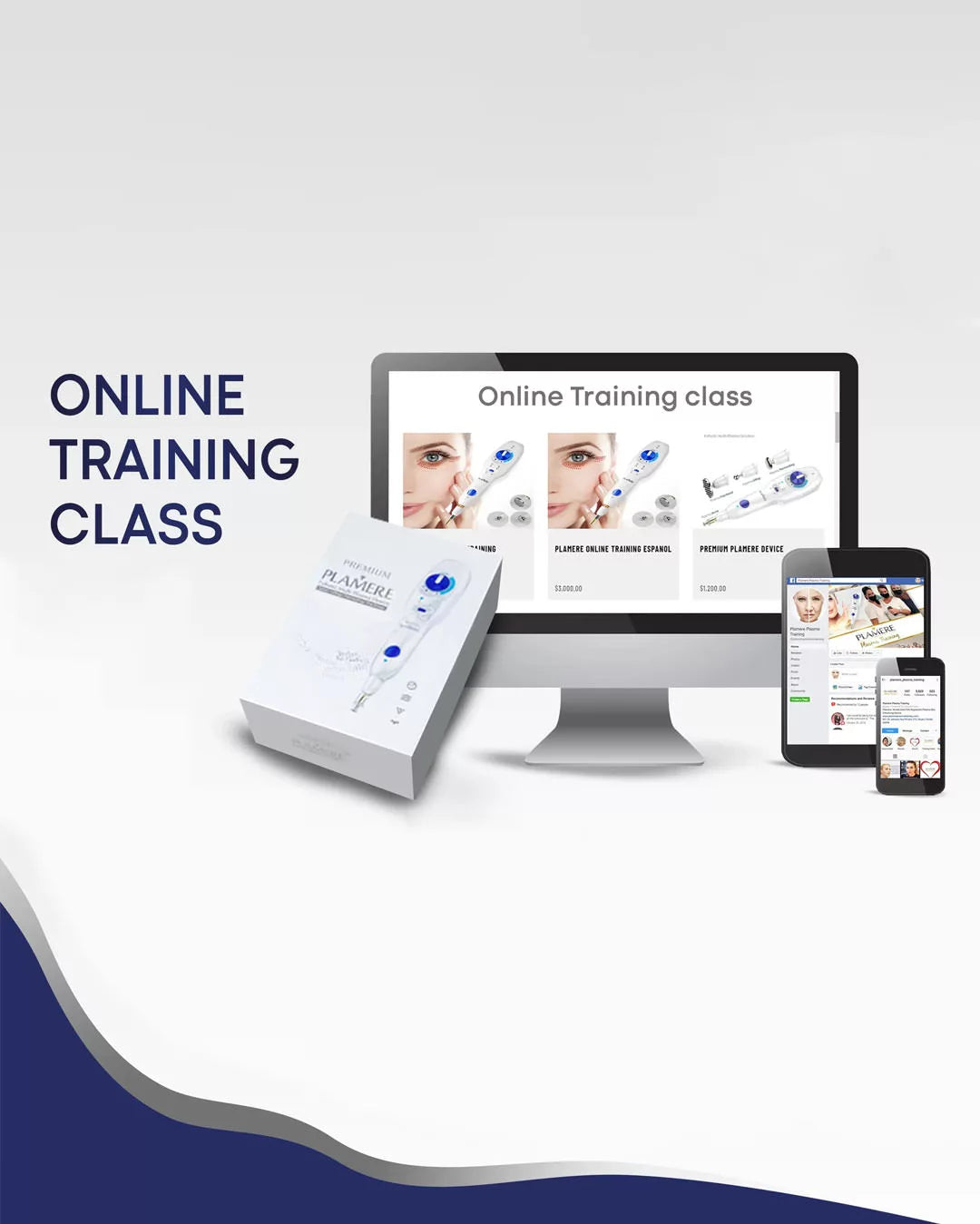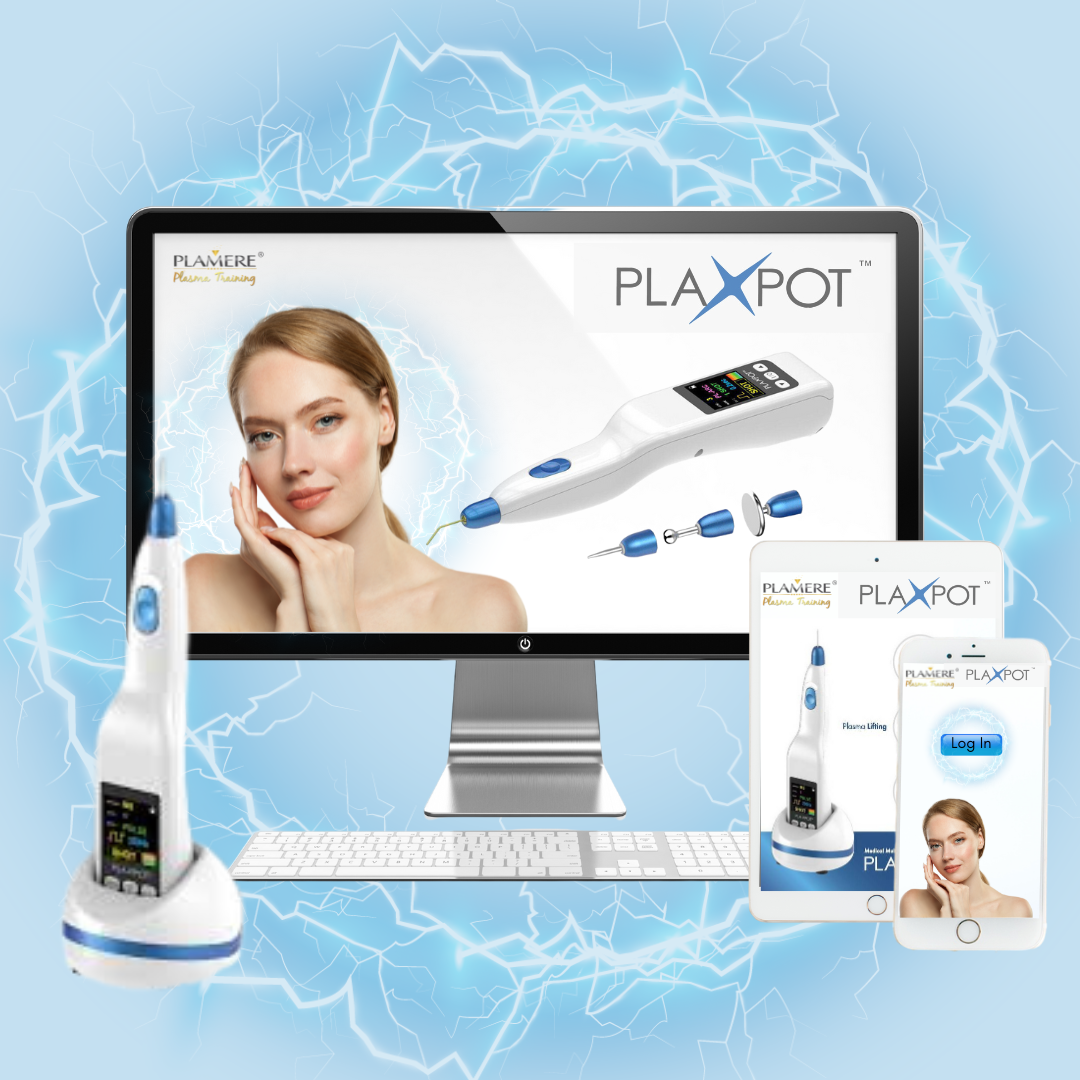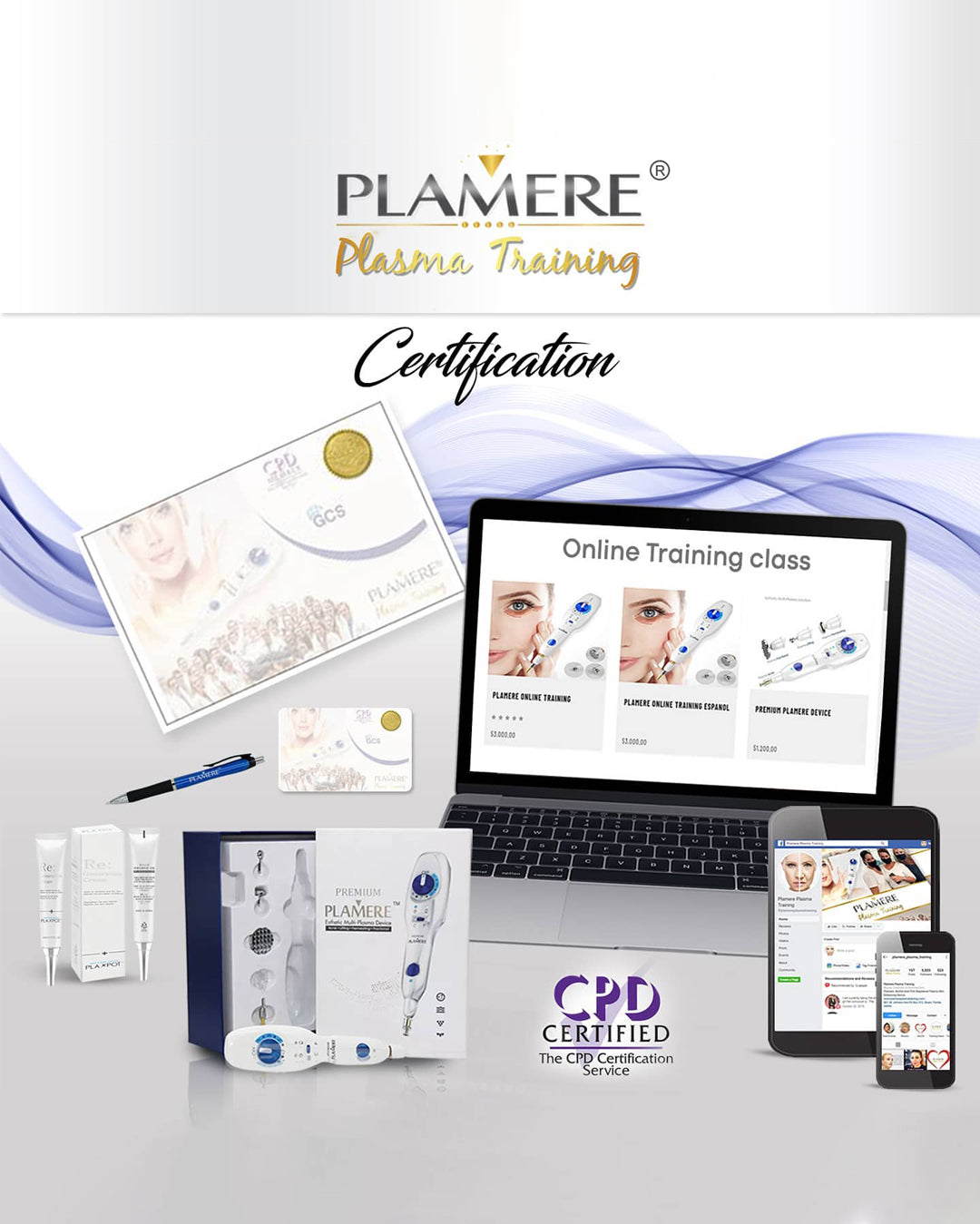 People Love Plamere Plasma Training